Ultimate Montreal Wedding Photography Price Guide, Best Photographer at Any Cost or Budget, Money Saving Tips (updated for 2019/2020)
Here are 3 fundamental truths that all brides must face:
Weddings are expensive (average cost is $42,400 in Canada)
We want to hire the best wedding photographer that is within our budget
Where and how can we find this photographer?
Chances are you get getting married for the first time (and hopefully last). With so many to choose from, things can get overwhelming quickly.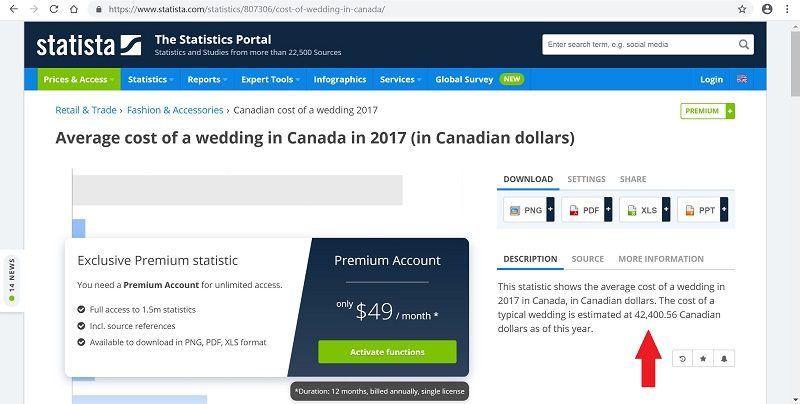 We will dive deep in this article by first analyzing how much money other brides are spending. This will help you determine a realistic budget for wedding photography. We promise to share everything we know, including money saving tips when choosing your venue and how to find the best candidate regardless of your budget.
Table of contents
How much money are brides spending at weddings
The average wedding in Canada costs $42,400 according to Statista.
Drawing data from other sources, the average cost of a wedding with approximately 100 guests in Canada is between $40,000 and $50,000 according to Slice. Here's the full breakdown of all average expenses in Canadian dollars:
Venue at $22,500 being the most expensive item
Wedding photographer at $4,500
Wedding videographer at $2,750
Wedding planner at $3,500
Wedding cake at $600
Bridal wear at $2,000
Menswear at $800
Hair and makeup at $500
Wedding rings at $1,200
DJ at $1,750
Live ceremony music at $600
Florist and reception decor at $3,000
Gifts for guests at $450
Stationery at $2,000
Officiant at $425
Marriage license at $100
Audio and Visual effects at $1,000
Transportation at $600
Hotels and accommodations at $400
Price for honeymoon varies greatly
The "average" can be misleading because the numbers are being skewed downward by cities that are much smaller than Montreal. If you have family and friends in the greater Toronto or Vancouver area that recently got married, don't be surprised to hear weddings costing between $50,000 and $100,000. Just like real estate, the wedding business is highly localized so it wouldn't make sense to compare the prices between Montreal and Saint-John (New Brunswick) for example.
Let's expand our research South of the border for illustration purposes. According to XO Group and The Knot, the average cost of a wedding in 2017 was $33,391 USD. Manhattan (New York) takes the crown at $76,944 USD. Here's the full list of the Top 25 Most Expensive Places to Get Married:
New York – Manhattan: $76,944 USD
New Jersey – North/Central: $62,074 USD
New York – Long Island: $61,113 USD
New York – Westchester/Hudson Valley: $55,357 USD
Massachusetts – Cape Cod: $55,083 USD
Rhode Island: $52,777 USD
Illinois – Chicago: $52,332 USD
Connecticut: $47,435 USD
New York City – Boroughs Outside of Manhattan: $46,808 USD
Pennsylvania: Philadelphia/Delaware: $46,211 USD
California – Los Angeles: $44,142 USD
Louisiana – New Orleans: $41,167 USD
Massachusetts – Boston: $40,667 USD
Florida – Southern: $40,634 USD
New Jersey – South: $40,231 USD
DC-Washington DC/Northern Virginia/Suburban Maryland: $39,465 USD
California – San Francisco/Greater Bay Area: $39,329 USD
Hawaii: $38,984 USD
California – Santa Barbara/Ventura: $38,025 USD
California – Orange County/Inland Empire: $37,050 USD
Maryland – Baltimore: $36,305 USD
Michigan – Detroit: $35,843 USD
Pennsylvania – Pittsburgh/Southwest: $34,928 USD
California – San Diego: $34,722 USD
Illinois – Chicago Suburbs: $34,675 USD
With a metropolitan population of 4,628,910, Boston (Massachusetts) is considered by many the US equivalent to Montreal at 4,098,927. We can see that the average wedding in Boston costs $40,667 USD, in line with Montreal given the demographic similarities and from our research using various sources across Canada.
Enough statistics, what does this mean for me?
The take-away is that weddings have become expensive and the cost continues to rise over the years. If you are planning in getting married within Montreal in 2019/2020:
First of all, congratulations on getting engaged!
Consider saving up to $40,000+ if you are expecting to host 100-120 guests on a prime Saturday in summer or autumn at a decent venue
The venue will be the highest expense by far (keep reading to learn how to save money there)
Wedding photography takes 10% of a bride's budget on average
Let's be honest, brides demand and deserve the best.
Up till now we have been dealing with "averages". Tying the knot is an once-in-a-lifetime event and we understand you wish for an incredible, memorable experience. No bride wants to settle for being "average". Splurging is fine but we strongly discourage taking out a loan, deep into the red before getting wed is a strong signal that your marriage won't last.
Cutting cost at venues to maximize savings
The planning usually starts with determining the date for your wedding, then research for venues that are available that day. Once you secure the venue, then you proceed in booking the other vendors.
The venues know this. Having no experience and a fresh budget, you are most vulnerable financially at this point for overspending. Here are a few tips to consider in order to keep cost under control when booking a wedding venue:
Venues want to fill their calendars just like everyone else. Book early to secure any discount or incentive
Uncover hidden gems will allow you to deal directly with the owner. Venue managers from large chains have little power in the pricing
Be realistic with supply and demand. A prime Saturday in summer or autumn will command a premium, why not consider getting married on Friday / Sunday or even during winter?
[bgsection pex_attr_subtitle="Top wedding venues in Montreal" pex_attr_style="section-dark" pex_attr_bgcolor="252525″ pex_attr_image="https://www.pixelicious.ca/wp-content/uploads/2018/04/Best-wedding-venues-in-Montreal-by-Pixelicious-001.jpg" pex_attr_imageopacity="0.4″ pex_attr_bgimagestyle="static" pex_attr_titlecolor="ffffff" pex_attr_textcolor="ffffff"][pexcirclecta pex_attr_button_text="View the list" pex_attr_button_link="https://www.pixelicious.ca/best-wedding-venues-montreal/" pex_attr_button_link_open="same" pex_attr_inner="true"][/pexcirclecta][/bgsection]
Budget of $0: How to find a wedding photographer for free
Disclaimer: Pixelicious strongly discourages this method because we firmly believe that all photographers' time is valuable regardless of their level of expertise and should be compensated accordingly. Too often this results in a poor experience for both the client and photographer.
We understand that not everyone has the means to hire a professional photographer. If you manage to find a friend or a family member to document your wedding day free of charge, be very thankful to that person. Problems arise when expectations aren't communicated and set properly. As long as you acknowledge the risks involved and accept whatever outcome that lies ahead, tap into your network of friends for a volunteer and hope for the best.
Budget of $500: Hiring students
Photography or fine arts students are highly creative, yet eager for opportunities to build a portfolio. Despite the lack of experience, students can produce stellar imagery and savvy brides have been known to tap into this talent pool with positive results while cutting cost.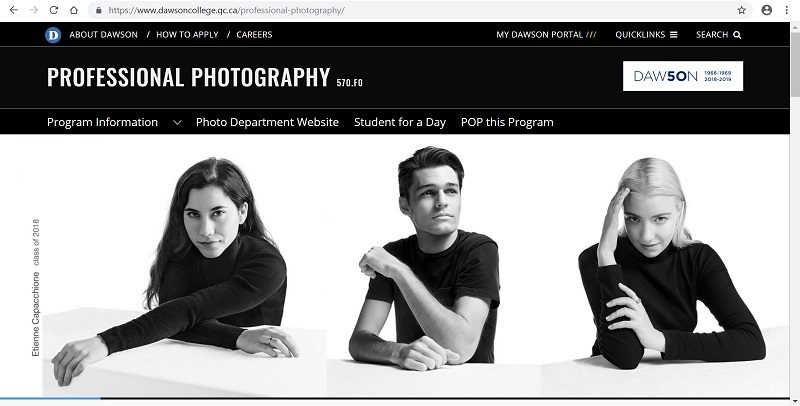 Modest compensation should be considered to cover the student's expenses: transportation, food, equipment and time. In addition to monetary benefits, we strongly encourage clients to let students showcase the images as part of their portfolio. This is the main reason why they accepted the assignment to begin with. A contract / model release and an agreement on which photographs to be published from both sides will prevent any misunderstandings.
Resources to help you get started:
Budget between $500 and $1500: Using Kijiji, Craigslist and Facebook
Local classifieds sites such as Kijiji and Craigslist can help brides connect to wedding photographers within the greater Montreal area at various price levels. Many have also used Facebook local groups and recommendations to obtain suggestions quickly. The candidates in this price range might have just started their careers in wedding photography, therefore offering their services as a discounted rate but the work can be deemed satisfactory.
We advise clients to exercise due diligence such as verifying past reviews and testimonials, meeting the photographer in person for an interview and carefully set expectations via a written contract to help protect both parties.
Budget between $1500 and $3500: wedding shows, search engines, venue recommendations and referrals
Most Montreal brides fall within this category when finding their wedding photographer. Wedding shows are great because you get to discover a very large number of vendors of all categories under one roof. The selection can be overwhelming however and due to the numerous visitors involved, you don't get to spend much time to learn about the photographer. Meanwhile, each photographer is trying to cast a wide net to maximize inquiries, preventing them in focusing on individual (your) needs. It is guaranteed that a follow up phone call or meeting will be required.
A more laid back approach is to rely on search engines. This allows brides to browse photographers' portfolios at their own pace, shortlisting the top candidates for possible meetings. Popular keywords to search for include "wedding photographer", "wedding photography", "wedding photographer montreal", "wedding photography montreal", "affordable wedding photographer montreal", etc. For those not familiar with search engines such as Google or Bing, remember the following:
The top area consists of ads and they will be identified as such
Next you will come across a map, identifying the wedding photographers nearest to your location (phone's GPS / computer's IP address)
Organic listings where the search engine ranks websites based on relevance and trustworthiness
As discussed earlier, it is common for brides to book the venue first so don't hesitate in asking for recommendations. Venues usually have a list of trusted partners or vendor network, use that information to help you compare against the ones you have discovered.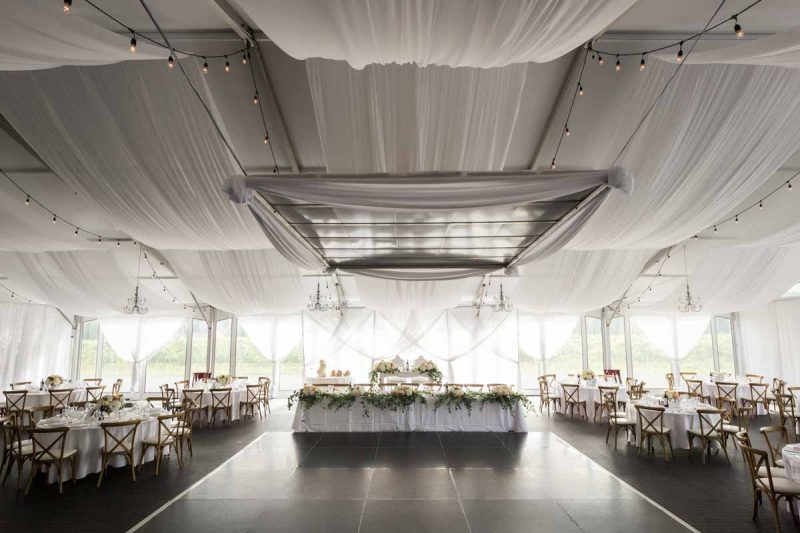 Finally, the best method in finding your ideal wedding photographer is to ask a friend who previously got married. Word of mouth referrals are the strongest by far, especially when you had the chance to see your friend's wedding pictures (possibly observing her photographer in action while attending as a guest). Knowing that you have been referred by a past client, rest assured that you will be in good hands. In fact, half of Pixelicious' clients consists of referrals, we believe that the best way to attract new brides is to simply deliver the most memorable wedding experience to our existing clients.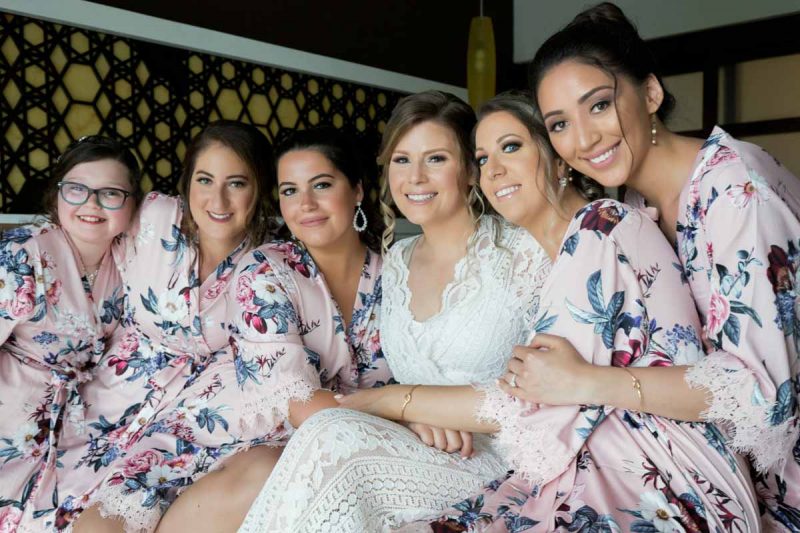 Budget of $3500 and higher: Why should I pay this much?
Factors that can influence the pricing for wedding photographers include:
Quality of portfolio
Experience in the industry
Reputation and history of customer service excellence
Network strength with other vendors
Studio space availability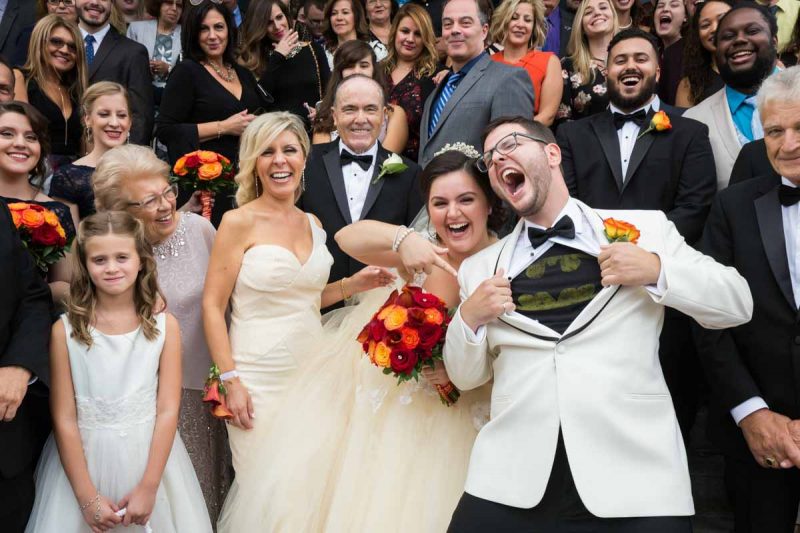 Ultimately it comes down to supply and demand. Weddings are highly localized businesses and photographers cannot attend two events simultaneously. There are only a handful of prime Saturdays available in the year. Although you will come across many talented wedding photographers in Montreal, the best ones are consistently referred and booked far in advance due to the reasons above.
It is also important to consider what you are getting for the higher price, some examples include: engagement session, album, 2nd photographer or assistant, photo booth or even video coverage. Brides often find these as worthy add-ons.
Ask yourself whether you value photography. If there is one day in your life where you wish to have moments captured beautifully, would your wedding day happen to be one of them? Conventional wisdom dictates that you get what you pay for after all.
What can Pixelicious do for you?
Pixelicious exists to offer high quality wedding imagery for exclusive brides at a very competitive price. If you have made it this far in the article, then we definitely want to hear from you. In addition to our homepage where you will find plenty of information, we invite you to browse our portfolio, frequently asked questions, our reviews by past clients or one of the following to help you get started:
[bgsection pex_attr_title="" pex_attr_subtitle="Our history and purpose, see the very best" pex_attr_undefined="undefined" pex_attr_style="section-dark" pex_attr_bgcolor="252525″ pex_attr_image="https://www.pixelicious.ca/wp-content/uploads/2018/10/Highlights-in-2018-splash-v2.jpg" pex_attr_imageopacity="0.3″ pex_attr_bgimagestyle="static" pex_attr_titlecolor="ffffff" pex_attr_textcolor="ffffff" pex_attr_height="" pex_attr_cssclass=""][pexcirclecta pex_attr_small_title="" pex_attr_title="" pex_attr_button_text="Highlights of 2018″ pex_attr_button_link="https://www.pixelicious.ca/best-wedding-photos-montreal/" pex_attr_button_link_open="same" pex_attr_button_color="" pex_attr_inner="true"][/pexcirclecta][/bgsection]
[bgsection pex_attr_title="" pex_attr_subtitle="Countless moments. You ready?" pex_attr_undefined="undefined" pex_attr_style="section-dark" pex_attr_bgcolor="252525″ pex_attr_image="https://www.pixelicious.ca/wp-content/uploads/2017/03/Pixelicious-LAmbroisie-Montreal-wedding-031.jpg" pex_attr_imageopacity="0.6″ pex_attr_bgimagestyle="static" pex_attr_titlecolor="ffffff" pex_attr_textcolor="ffffff" pex_attr_height="" pex_attr_cssclass=""]
[pexcirclecta pex_attr_small_title="" pex_attr_title="" pex_attr_button_text="See our portfolio" pex_attr_button_link="https://www.pixelicious.ca/stories" pex_attr_button_link_open="same" pex_attr_button_color="" pex_attr_inner="true"][/pexcirclecta]
[/bgsection]
[bgsection pex_attr_title="" pex_attr_subtitle="What do brides want? Knowing what matters " pex_attr_undefined="undefined" pex_attr_style="section-dark" pex_attr_bgcolor="252525″ pex_attr_image="https://www.pixelicious.ca/wp-content/uploads/2017/03/Victoria-and-Luis-Crowne-Plaza-Hotel-Montreal-wedding-001.jpg" pex_attr_imageopacity="0.4″ pex_attr_bgimagestyle="static" pex_attr_titlecolor="ffffff" pex_attr_textcolor="ffffff" pex_attr_height="" pex_attr_cssclass=""][pexcirclecta pex_attr_button_text="What's wedding photography?" pex_attr_button_link="https://www.pixelicious.ca/what-brides-want/" pex_attr_button_link_open="same" pex_attr_inner="true"][/pexcirclecta][/bgsection]
[bgsection pex_attr_title="" pex_attr_subtitle="Best locations for engagement pictures" pex_attr_undefined="undefined" pex_attr_style="section-dark" pex_attr_bgcolor="252525″ pex_attr_image="https://www.pixelicious.ca/wp-content/uploads/2018/05/Jessica-and-Anthony-engagement-029.jpg" pex_attr_imageopacity="0.4″ pex_attr_bgimagestyle="static" pex_attr_titlecolor="ffffff" pex_attr_textcolor="ffffff" pex_attr_height="" pex_attr_cssclass=""][pexcirclecta pex_attr_button_text="Find out where" pex_attr_button_link="https://www.pixelicious.ca/best-places-engagement-pictures-montreal/" pex_attr_button_link_open="same" pex_attr_inner="true"][/pexcirclecta][/bgsection]
[bgsection pex_attr_title="" pex_attr_subtitle="Touching testimonials that make us tear up" pex_attr_undefined="undefined" pex_attr_style="section-dark" pex_attr_bgcolor="252525″ pex_attr_image="https://www.pixelicious.ca/wp-content/uploads/2018/03/Pixelicious-Testimonials-background-001.jpg" pex_attr_imageopacity="0.5″ pex_attr_bgimagestyle="static" pex_attr_titlecolor="ffffff" pex_attr_textcolor="ffffff" pex_attr_height="" pex_attr_cssclass=""][pexcirclecta pex_attr_small_title="" pex_attr_title="" pex_attr_button_text="What others say" pex_attr_button_link="https://www.pixelicious.ca/testimonials" pex_attr_button_link_open="same" pex_attr_button_color="" pex_attr_inner="true"][/pexcirclecta][/bgsection]
[pexcirclecta pex_attr_small_title="" pex_attr_title="" pex_attr_button_text="Get a quote now!" pex_attr_button_link="https://www.pixelicious.ca/contact" pex_attr_button_link_open="same" pex_attr_button_color=""][/pexcirclecta]